My G

ourmet

Chipotle Hot Sauce

has a delicious bite that will make you wag your taste buds.
 The flavor of the smoked Chipotle peppers
is surrounded by garlic and many spices.

"The Chipotle is the best sauce I've ever had!"
"I love the garlic, that's what gives your sauce such a great taste."
"My Bloody Mary's have never tasted better since I started using Doggone Chipotle in them."
What the experts say about my Chipotle…
"A rich savory Chiptole Smoky Aroma that's done just right"
"Really tastes awesome"
"Fantastic aroma and flavor"          
""This is a Chipotle Sauce done right
"I give it a 10 out of 10 on flavor"
Bill Moore's Hot & Spicy Reviews

Run With the Pack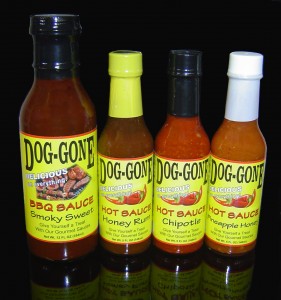 Thank You for buying my delicious Dog-gone Hot Sauce.
You are "Helping the Animals."
For wholesale and case pricing, Contact us at: Wholesale@DoggoneSauce.com