Favorite Hot Sauce of Pet Lovers

 The Pup Pack
 Choose any 3 Hot Sauces  only $19.95
The Dog Pack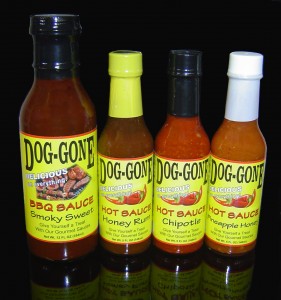 Choose any 4 Sauces  only $25.95
Save when you choose the Pup Pack or Dog Pack.
Thank you for ordering online today. Make sure to ask your local grocery stores and favorite restaurants to carry Dog-gone Hot Sauce. You are a big part of Helping Animals even more when you spread the word.
It's about the Sauce – It's about the Cause.
"Like" Dog-gone Sauce on Facebook
____________________________
Customize Your Order and Buy By The Flavor
The smooth sweet flavor of Tropical Fruits, Dark Rum, Honey and Peri Peri peppers will have you "begging for more".
(Fresh Cayenne and Peri Peri Peppers)
The flavor of the smoked Chipotle peppers surrounded by garlic and many spices will make you "wag your tastebuds".
(Aged Red and Fresh Chiptole Peppers)
Pineapples, Orange Juice, Lime Juice, Honey and other delicious ingredients are infused with Habanero peppers to be "sweet like a puppy with a Big Dog bark".
(Fresh Habanero Peppers)

Ketchup, Honey, Worchester, Molasses and a little Hot Sauce provide the smoky sweet with a touch of heat flavor that "makes meat good to the buried bone".
Limited Edition Seasonal Hot Sauces
Pumpkin, Ginger, Cinnamon, Cloves and other delicious ingredients are infused with Ghost Peppers to "warm up your holidays".
(Fresh Ghost Peppers)
_____________________________________________

NEW Gourmet Product!!
$12.95

ON SALE NOW


$9.95
Enjoy the mountain grown blend of Coffee to the Rescue. It's full of body, perfectly balanced, and wonderfully smooth.
_____________________________________________
______________________________
- DOG SAUCE -
Having trouble deciding what to give as a gift?
Get a Gift Certificate that can be printed or emailed.
Give Yourself a Treat!!
All around the world
Every animal deserves a loving home.

google-site-verification: google3a70cc91498615e2.html